Has The Second Coronavirus Wave Peaked?
Left, Right & Centre
Show
Recommended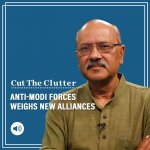 Cut The Clutter: Opposition dreams again with a tea party at Pawar's, with formula often tried, tested & failed
13 hours ago
ThePrintAM: What is the significance of Covaxin's efficacy data of 77.8%?
6 hours ago
World News 22:20 Hrs IST
13 hours ago
Top Opposition Leaders Meet: Prelude To An "Alternative Vision"?
14 hours ago
UP cabinet reshuffle murmurs, monoclonal antibodies, and HC stays Lakshadweep orders
5 hours ago
Heavy fighting reported in Northern Ethiopia
7 hours ago
Ep. 602: Investigating the Wuhan Lab Leak
5 hours ago
Arora Akanksha on Her Unlikely Quest to Run the United Nations
5 hours ago
English News 20:30 Hrs IST
15 hours ago